Customizing VoodooPad
VoodooPad offers itself as a canvas to capture anything you want and can be changed to better suit your needs. Check out some of the topics below for more information.
Change the Default Font
To change the default font for new pages, open up VoodooPad's General Preferences. Select whatever is written in the new page text box, in the example below it says "Write about Customization here." Click where it says "use the Font Panel to change text style" in order to open up the font panel to change the text.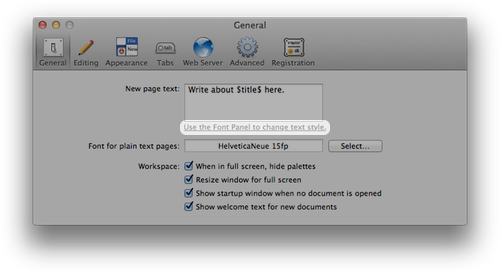 Setting the Font for Plain Text Pages
In order to select your font for plain text pages, navigate to VoodooPad's General Preferences. Click on the 'select' button to the right of 'Font for plain text pages:'.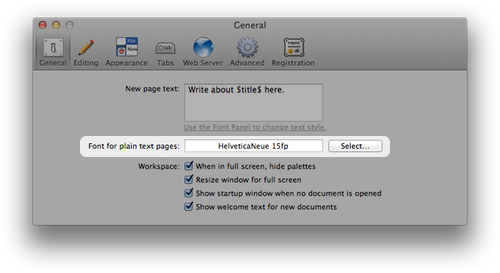 Customizing the Toolbar
The toolbar contains the most helpful features of VoodooPad at the touch of a button.

However, there are more options available than are set by default. To customize your toolbar, choose View ▸ Customize Toolbar. With the customize window open, you are now ready. Drag icons in and out of the toolbar to get the buttons you want. When you are done, hit the "Done" button.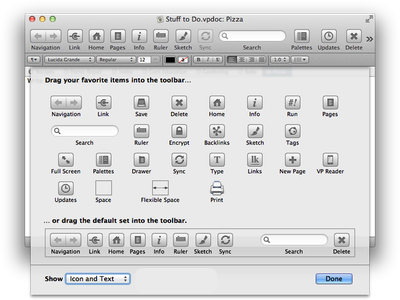 VoodooPad automatically shows you an icon with text underneath. If you want to save some real estate, try going into View ▸ Customize Toolbar and setting it to either Icon Only or Text Only.
Change the Default Home Page
By default, VoodooPad names the default home page "Index". If you are not happy with this you can open up the Info palette, click on 'Document', and choose a different page from the Home Page drop down menu.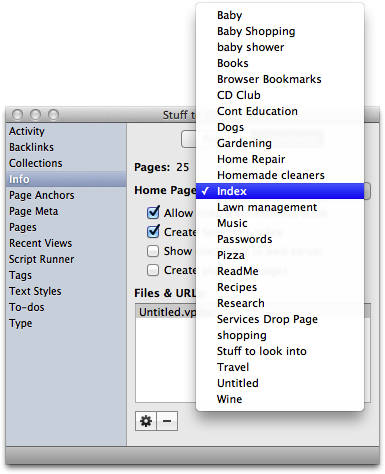 New Page Templates
VoodooPad automatically creates all new pages to read "Describe \ here". You can change this either through New Page Preference or New Page Template.
New Page Preference
Navigate to VoodooPad ▸ Preferences ▸ General and locate "New Page Text". Modifying this will change what the default text is for each page.
For a complete list of all the variables you can use, see below. You are a bit limited with this method however. You are not able to import pictures and it can be hard to control the text in this little box. If this is a problem for you, keep reading below about 'New Page Template'.
New Page Template
Create a page named "VPNewPageTemplate" and the new page will come up with the content "Describe Customization here". This new page now represents a template for your document when making new pages. Whenever you make changes to this page, all new pages will reflect those changes.
Try this out to test it: Select the text "Describe" and bold it. Type "$date$" at the end. Now make a new page. The new page created will have "Describe" in bold and will also have the current date.
What are some good uses for this? Make a default footer or header with links to new pages- a sort of built in navigation system. You can set a default background color that might be easier on your eyes.
Important Note: Creating a "VPNewPageTemplate" page in your document will override the setting you have in the preferences.
Template variables:
$title$ $date$ \n \r $shortDate$ $longDate$ $time$ $shortTimeDate$ $timeDate$ $fromPage$ $clipboard$ $document$ $documentNoExt$
Background Color
In VoodooPad you can change the color of the background to whatever you want.
Changing the background color of a single page:
Open up the Fonts Palette by choosing Format ▸ Font ▸ Show Fonts and select Document Color. This will bring up the Colors Palette and you can change the background to whatever you desire.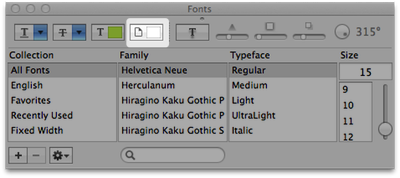 Applying a background color to all pages created:
If you always want to use the same page color, try creating and editing a 'New Page Template' as described above. The new background color will only apply to pages created after changing the template.