How to Register VoodooPad
VoodooPad Purchased from the Plausible Labs Store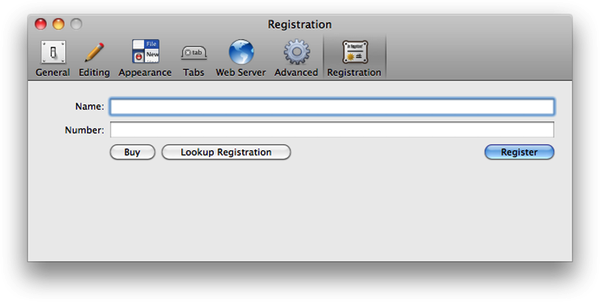 When you purchase VoodooPad, you will want to plug in your registration number so VoodooPad knows you have done the good deed. Once you register, you are allowed to have more than 15 pages in your document.
To do this, choose "Enter Registration" from the VoodooPad menu.
A panel will appear, with fields to enter your registration name and number. Make sure you enter them exactly the same way as they appeared when you completed your order (either via email or the web page). It is recommended that you cut and paste into these fields to avoid errors.
Press the "Register" button and you are good to go.
If you have already purchased VoodooPad and you do not know what your registration number is, visit our serial recovery page.
VoodooPad Purchased from the Mac App Store
If you purchased VoodooPad from the Mac App Store, you do not need to enter any registration information. This is because the Mac App Store manages the application for you. You will not see the 'Registration' tab present in the Preferences window.
If you downloaded the trial version of VoodooPad from the Plausible Labs website prior to purchasing from the Mac App Store, you will need to delete the trial version from your computer. Perform a spotlight search for "voodoopad kind:app" (without the quotes). Delete all copies of VoodooPad, even remove them from your trash. Install or re-install VoodooPad from the App Store. It will be present under your 'Purchases' tab. If VoodooPad doesn't immediately show up in your Applications folder, try re-booting.